Power generation from low carbon sources secured more than 60% of the UK's total energy mix in the first quarter of 2022.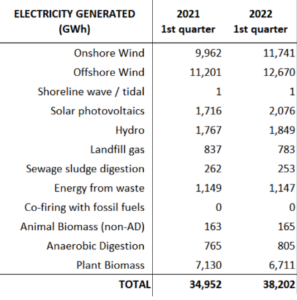 Government data shows renewable electricity generation totalled 38.2TWh in the first quarter of the year, up 9.3% compared to the same period in 2021. Second only to the first quarter of 2020 when the UK experienced exceptionally high wind speeds. Renewables' share of electricity generation was 45.5 per cent, again, the second highest compared to the record in Quarter 1, 2020.
Most of the new capacity was in offshore wind which saw two large new sites coming online in Quarter 1 2022. This is the largest increase in capacity since the first quarter of 2018.Solar increased its generation by 21% in the first three months of the year. The analysis estimates that low carbon electricity generation represented a 60.4% share of the UK's total generation.
Gas generation fell by 14% to 28TWh between the first quarter of 2021 and 2022.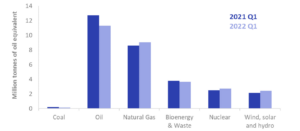 Renewable energy power production depends on environmental factors such as temperature, wind speed, light intensity etc. These factors affect the performance of energy conversion in renewable energy sources.
The emerging technology in this sector is the Internet of Things (IoT). The network of intelligence that bridges various devices and systems together by means of a cloud portal.
The Energy sector is now undergoing a data transformation as IoT brings about  changes from generation to transmission to distribution. IoT helps in analysing the  demand and in scheduling load in order to reduce cost. IoT increases the efficiency and  reliability of renewable energy assets.
Closed-loop digital twins use, in near-real time, live performance data pushed from local  IoT devices fed into the digital twin of the system. The ability to access energy  information and effectively analyse real-time data to extract key indicators is a crucial  factor for successful energy management.

One City Global are specialists in the provision of Digital Twins and digital twin technologies. A digital twin is a perfect digital replica of a physical asset. It enables  increased collaboration, data analytics and simulated conditions almost  instantaneously.  
As the digital twin trend accelerates in the coming years, more organisations will  explore opportunities using such technologies to optimise processes, make data-driven  decision in real time and design new products, services and business models.
For more information
email us at enquiries@onecityglobal.com 
Follow us on LinkedIn.
Visit us at www.onecityglobal.com
About Us
OCG has market leading competences within the internet of things, smart data, artificial intelligence, simulation and digital twinning technologies.We drive digital transformation by integrating processes and technologies and end-point to cloud integration connecting products, controls, software and services. We enable solutions for all phases of a Digital Twin from data aggregation and visualisation through to a full Multi-Dimensional Digital Twin.